Creating Wealth through Joint Venture Development Opportunities
Wealth, or equity growth can be created in 3 key ways:
Buy right – everyone is looking for a bargain, but there are ways to increase your chances of picking up an undervalued property.
Hold  - whilst the market fluctuates in the short term, history would show that your property will appreciate over time.  The right properties in the right areas appreciate faster.
Add value – whether it be by renovating or developing, a properties value can be improved by adding value.
The JTX model creates wealth by ensuring that the project meets all 3 equity growth vehicles.
The model is a very specific set of criteria that JTX believes delivers the best possible return, in the shortest possible time, with the least amount of risk. The model involves a joint venture development, whereby you become a passive or "arm chair" developer (The Financier) and JTX(your project Manager and Developer Partner.
JTX shares both the risk, and the upside in a profit sharing joint venture. The funds injected by the Joint Venture partner into the project are repaid prior to the 50:50 split of project profits.
JTX is a master of property with extensive and superior expertise and networks in all areas of construction and property development including;
research
intellectual property
planning
specialised consultants from building surveyors to marketing and sales
in house funding arm
consulting service to the building industry
We start with the end in mind and empower our clients with the highest level of knowledge and sophisticated strategies in the development industry.
JTX takes the guess work out of development. We arm you with a flexible and most capable alliance or joint venture partner guaranteeing success, minimising stress and maximizing profits.
JTX is a 'one stop shop', packaging a range of exceptional services which complement each other. JTX provide on time delivery and smart business solutions to any builder, developer or investor.
As the JTX vision suggests, dare to dream and anything is possible. This is the mantra by which  JTX founder and director Anthony Elcheikh has lived his life and the reason for creating the organisation. He believes it is possible for everyone wanting to achieve a high quality of life and freedom to do so through the simplest tested and proven wealth creation vehicle - Property.
This is the simplest but historically proven model that will guarantee freedom and choice to live life on your terms within 18 -24 months and the continue to gain momentum year after year.
JTX Joint Venture Projects
JTX develops a range of projects, from residential  developments to larger apartment buildings to commercial land developments.  All these projects are designed and developed with one key goal – to add value. Each and every project is developed to the JTX model that ensures optimal success through its tested and proven systems.
Many of these projects are opportunistic by nature.  This means that whilst the potential returns are high, the time frames and project outcomes can not be guaranteed. These types of projects are more suitable to long term or repeat investors.
The JTX Joint Venture model was developed specifically to deliver:
 A low risk investment model for passive investors , by arming them with JTX and its wealth of experience and sophisticated strategies and relationships,
 A perfect marriage between financier and developer as Joint venture partners with a common interest and shared profits with minimum risk . Each focussing on there specific area of expertise,
 a Platform where by investors and JTX together realise returns far greater than traditional investments and often with far less risk.
Through the JTX network, we are continually sourcing new project opportunities.  On a regular basis, the company has more project opportunities than it wishes to fund itself.
In these situations, JTX  is happy to share profits whilst maximising the number of active projects with the support of its alliance partners.  JTX makes a small number of projects available to an exclusive group of investors. These projects are managed in the same way as fully owned JTX projects.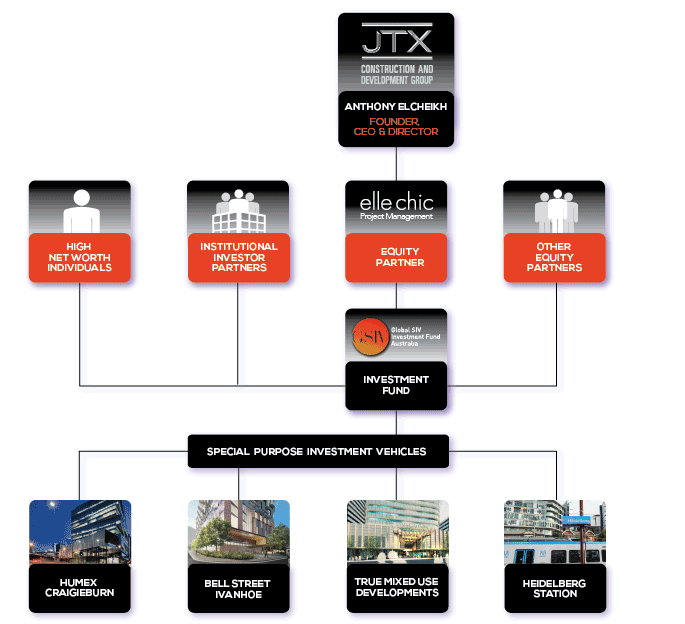 We welcome your enquiry about any of our services. Please contact us to share in our vision of opportunity.