The JTX model utilises our own intellectual property and employees to manage project strategy, goals and methodology of each project because we have confidence in our systems and processes.
We assess the requirements of each project carefully then match the consultants and build partners to deliver the specific strategy. This way we capitalize on the capabilities of our partners and the unique characteristics of each project.
The JTX Group of Companies
The project team is backed by the JTX Group that consists of the following entities:
JTX Construction and Development Group Pty Ltd
Elle Chic Project Management Pty Ltd
JTX International Pty Ltd

Global Significant Investment Visa Fund Australia (GSIVFA)
Funding is secured through GSIVFA. This fund is a vehicle by which all offshore investor partners, listed companies or high net worth individuals meet their investment requirements. They may desire a permanent visa or seek to access an Australian Financial Service Licensed Fund. Whilst this fund is made of a range of investment asset classes, it specialises in a suite of Special Purpose Vehicles (SPV) which tend to be key development projects which can be up matched to a specific investor's appetite and investment level requirements.
This investment fund greatly reduces our reliance on traditional funding avenues. Typically, investors are matched together on a risk and reward basis, and have the capacity to fund the entire project to completion.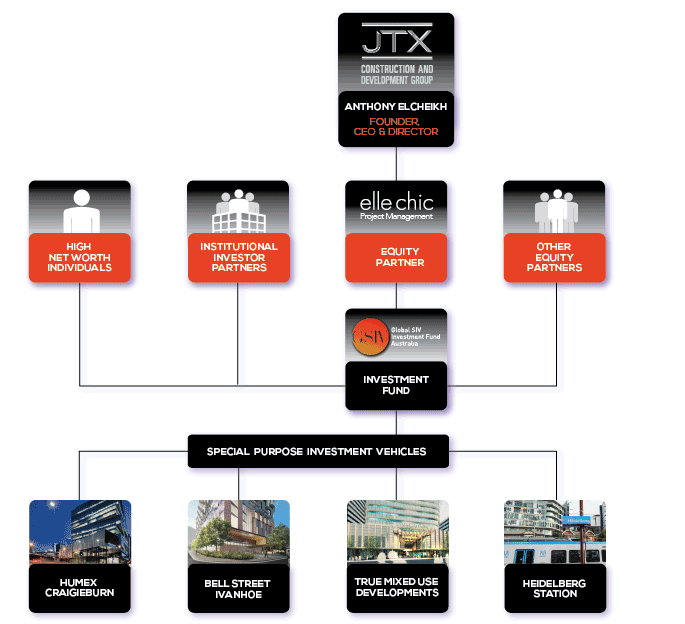 Relationship with Industry Operators & Services
JTX has built a history with many of the leading industry operators who take part in our mixed use developments.
These relationships serve to confirm the development strategy at the front end of a project and facilitate design.
These include:

Marketing Agents such as Knight Frank, Savills and Colliers

Hotel and serviced apartment operators such as 1834 Hotels, and Quest Apartments
International Asian food and beverage operators


Medical Service Providers such as Melbourne Pathology, Ochre Health and Caerus Property

Age Care Service Providers such as Baptcare, Japara and Australian Unity

Childcare Providers such as Total Childcare Solutions Australia and Good Start Early Learning.