Environmental sustainability and healthy amenity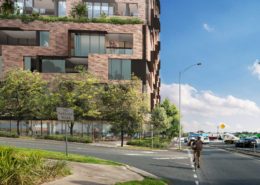 JTX, in partnership with Sustainable Development Consultants (SDC), are leading the market by providing sustainable outcomes across all our developments. Our large scale development at 37-69 Bell Street, Ivanhoe is a truly mixed use development designed by a high class team, and constructed to the Green Star standards for Best Practice and will provide a wonderfully diverse and sustainable development to that local municipality.
We know the importance of environmental sustainability and understand the advantages associated with providing highly sustainable outcomes. Though our alliance with SDC and our commitment to leading the market, we now provide sustainable outcomes across all developments.
Our designs focus on healthy indoor environmental quality with the inclusion of plenty of daylight access and fresh clean air. All outdoor areas are designed to provide good solar access as well as shade at appropriate times. Landscaping is tailored to each development site to help maximise enjoyment for all users.
Energy efficiency is delivered via a high performance building thermal envelope, highly efficient lighting and air conditioning as well as on site green electricity generation.
Integrated water management systems capture and reuse rainwater together with highly efficient fittings and fixtures.
Sustainable transport options help link local community to our developments and reduce the requirement for car travel to and from the site. Access to public transport as well as the provision of high quality bike parking and change facilities are key considerations.
Throughout the development process we ensure that high proportion of waste is recycled or reused or avoided and that the materials chosen for the site are well thought through with regard to reducing the overall life cycle impact of each project.
Through the use of high quality design and innovative use of technology we deliver outstanding developments that are not only fit for purpose but also sustainable and flexible to ensure current and future requirements are met.